GPRS has become the industry-leading, go-to professional for all subsurface investigations scans and locates. Through our SIM standard and equally formidable Project Managers, GPRS has climbed the ladder and created a world with almost 100% subsurface prevention. But we aren't satisfied with just mastering the underground. We want to improve our quality of service and take our customers into the clouds of prosperity. However, the only way to get to the clouds is to introduce something that can fly us there…
Now introducing GPRS' new service, Aerial Thermography!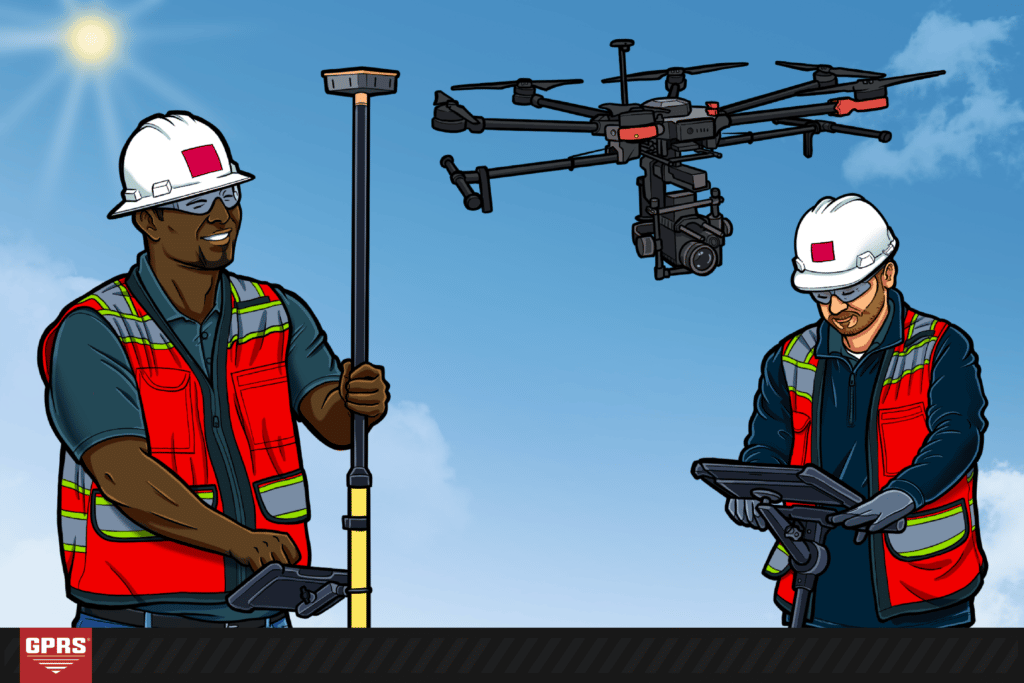 Thermographic aerial inspection, or aerial thermography, is the process of using a drone equipped with infrared sensors to inspect solar Photovoltaic (PV) Systems. By using these infrared images and/or videos, aerial inspection solutions providers, such as GPRS, have the ability to identify malfunctions that impact the solar system performance, in addition to performing routine maintenance and other services.
To further enhance production, GPRS utilizes a drone, equipped with infrared thermal cameras to identify defects, anomalies, and faults affecting PV system performance, as well as underground voids and electrical facilities. GPRS uses three separate levels of inspection to offer the best of service: the plus, premium, and pro levels. Each level differs by flight altitude, data capture time, level of analysis, and the level of detail for all final deliverables. Understanding which level of inspection is needed helps maximize your return on investment (ROI) and decrease time spent per project.
Because of the new drone imaging, GPRS is able to stay with our renewable energy clients from the beginning of their project all the way to the finish line. Even better, we can always come back for their annual solar inspections and provide further insight to make sure our clients stay on time and their operations are online.
That begs the question, what benefits does aerial thermography bring to GPRS customers? First, let's look at what services can be done through our new drones.
First and foremost, we know that our infrared camera equipped drones enable renewable energy clients, especially those in the solar field, to properly spot, inspect, and replace damaged solar panels. More than that, these thermal drones provide even greater services for other energy divisions and other commercial construction clients. Void detection, the process of detecting near surface voids below concrete structures, allows our Project Managers to find inspect cold pockets under culverts, roads, sidewalks, and other concrete slabs. Additionally, GPRS has the capability of inspecting electrical facilities and uncover the areas producing excessive heat to prevent component failures. On top of all these new additional inspection services, GPRS utilizes our thermal drones to conduct UAS Magnetic Imaging to find abandoned oil well heads, preventing severe fires or damages before breaking ground on solar farms. All four of these come together and create GPRS' Aerial Thermography pillar to support our neighbors in the renewable energy field.
All that is all well and good, but what are the benefits? How does GPRS' Aerial Thermography service compare to our competitors? Easy. Drone service benefits include:
Safety: Like every GPRS service, the focus is always safety. By using UAS Thermographic Surveying, you can detect dangerous anomalies first, and protect your employees second.
Detailed Information: The thermal infrared and high definition (HD) color image resolutions allow for the accurate identification of small- and large-scale anomalies with your solar panels.
Difficult to Reach Locations: Rather than trekking rough terrain or climbing to unsafe heights, a UAS Drone Scan can easily inspect facilities even in the toughest to reach areas imaginable.
Save Time and Money: High impact anomalies cause a large loss in annual production and revenue. By detecting them with aerial thermography, you ultimately save yourself time and money in the future. 
Keep Operations Online: By utilizing UAS Thermographic Imagery to perform maintenance on your PV system, plant operations don't need to be shut down for an inspection. We fly over so operations can stay online and active.
Instant ROI: Maximize the output and efficiency of your solar panel array using detailed data from infrared drone imagery. Obtain an immediate return in investment by boosting the efficiency of your solar fields.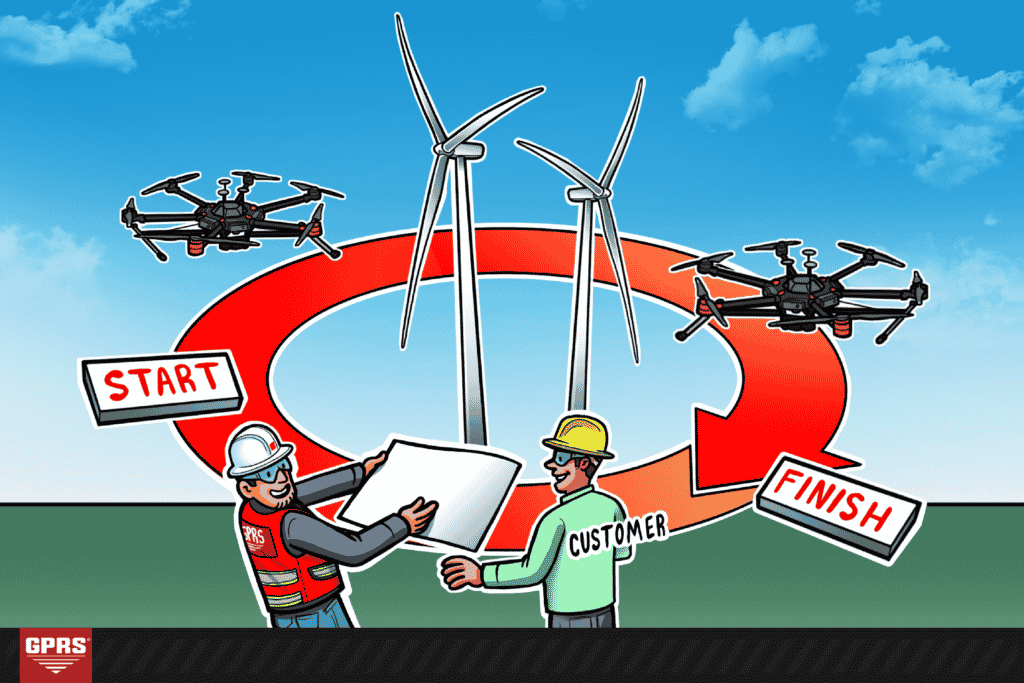 We don't want to just blow smoke out of your ears. The best way to truly see what GPRS' drone services can do is by sitting down with someone who has witnessed them in action. Which is why we interviewed Tyler Funderberg, a GPRS Business Development Manager, who oversees drone inspection services out of our Houston and Corpus Christi markets.
Welcome to the GPRS Drone Case Study.
"We're seeing a lot more developments in the solar industry," says Funderberg. "Very large, thirty-to-forty-thousand-acre facilities and originally we did our typical utility locating before the installation process, but we soon realized that was only the beginning."
And Tyler is right. GPRS' drone services allow us to bundle multiple services together, enabling our talented PMs to stay with clients during the entire duration of their project. Through a customer's eyes this is perfect because you don't have to juggle multiple contractors, all projecting different times for the project's finality. Tyler helps us understand how it affects everything in the field, specifically during the operations and maintenance phase of construction, during a recent two-month long solar farm project that GPRS completed.
Like most construction projects, all solar farms are on a tight schedule for completion. The only problem? Solar farms cover a large surface area. This is why the easiest way to cover the area of such a large project is aerial drone thermography. GPRS Project Managers then create a distinct flight plan to fly over scheduled areas to help prevent project delays for when the farm transfers ownership. During the flight plan, drone operators use a forward-looking infrared (FLIR) camera to snap real-time images as well as radiometric pictures. Radiometric imaging is important because these images have temperature data embedded in each pixel, allowing them to be analyzed with a FLIR Tools software. FLIR Tools can be used to view infrared, visible, and MSX blended images, including the ability to thermally tune images and bring out the details you need for the inspection. After analyzing the images, PMs will send a detailed report that covers every aspect of the inspection, enabling the customer to pinpoint troubled or non-operating locations within the solar farm. Our reports allow them to quickly assess any situation, and replace damaged panels where needed, which keeps the project on time and on schedule.
So, how qualified are GPRS Project Managers and field personnel when it comes to drone flying?
Easy answer? Very qualified.
"Anybody who is out on sight doing the flying is Part 107 FAA Commercial Drone Pilot licensed," explains Funderberg. "What that means is that not just anybody can go out and do this. We were required to obtain 40 hours of training on Level 1 UAS Thermography, which is the highest certification that you can get right now."
And what happens if there becomes a higher certification? No fear, Tyler reassures that GPRS drone personnel will always study and train to the highest standard that is offered for this field.
Basically, it's a new service, but the same GPRS. We aim to achieve the upmost respect and condolence from every customer that decides to hire our company, for any of our services. Now, with Aerial Thermography, we can begin to widen the gap between not only the competition, but the industry standard in general. We inspect it now, so you can fix it now!