GPRS promotes concrete and construction safety every year by hosting Concrete Sawing & Drilling Safety Week and supporting Construction Safety Week. The GPRS team is dedicated to helping improve the welfare of those working in or around the construction industry. We genuinely care about your safety and the welfare of those working at your job sites.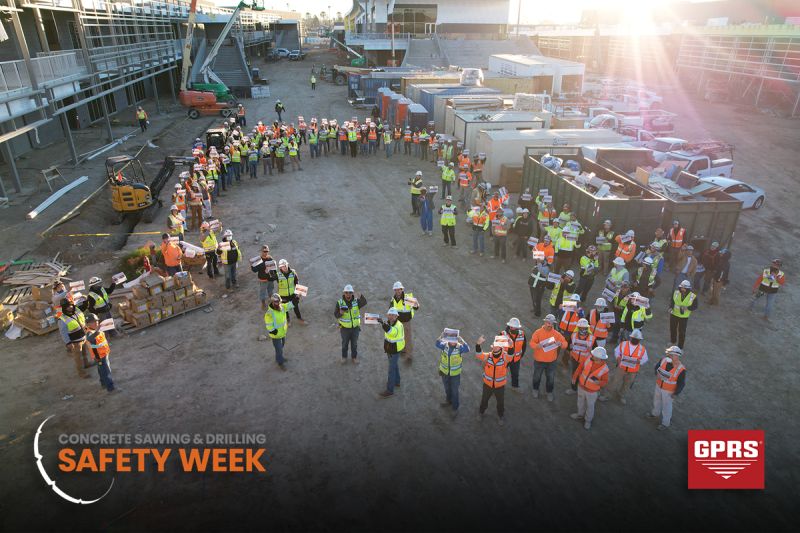 We had hundreds of meetings touching thousands of laborers last year in our toolbox talks around safety. But we're not done. We want to bring our presentations to your job site.
The Purpose of Toolbox Talks
One way we support safety at GPRS is through our toolbox talks. A toolbox talk is where a representative from GPRS visits your site and shares a 20-minute presentation complete with helpful tips and insights on how to keep your crews safe.
According to an article written by SafetyTek, toolbox talks and safety presentations do have a positive effect on site safety. Data shows that an increased frequency of toolbox talks from a monthly meeting to a daily session can decrease Total Recordable Incident Rates (TRIR) by up to 85%. If you happen to perform toolbox talks weekly, then the increase to daily can reduce TRIR by up to 72.8%.
Concrete Sawing & Drilling Safety Week is an opportunity for construction workers to focus on best safety practices. Toolbox talks are an easy way to give team members a chance to refocus on best practices and learn something new. Interested in scheduling a toolbox talk? Click here to schedule your presentation today!
Knowing the Risks of Concrete
We want to show our hard-working team members that we respect them and care about their welfare. When we train workers to cut, core, and drill concrete safely, we turn respect into action. We cover multiple aspects of concrete sawing and drilling safety during our toolbox talks. We explain the risks of slip and fall hazards, electrical shock threats, cut and laceration prevention, structural damage dangers, and how to avoid pinch points and kickbacks.
But concrete safety is more than mitigating the immediate physical threats. A big part of concrete sawing and drilling safety is understanding the risk of crystalline silica and the development of Silicosis. People who work with concrete are highly likely to develop Silicosis if proper safety precautions are not implemented. Here are just a few of the facts about Silicosis.
Silicosis Statistics
Crystalline silica exposure is directly linked to lung cancer, Chronic Obstructive Pulmonary Disease, kidney disease, lung infections, and more. OSHA (2021)
Silicosis can be prevented, but it cannot be cured. This means that damage done can't be undone. American Lung Association (2020)
The only known treatment for advances Silicosis is a lung transplant which can cost more than 1.3 million dollars. American Lung Association (2020)
Toolbox talks are one of the best ways to educate your workforce about known hazards that they come across on a daily basis. We promote two annual events to help educate and spread industry awareness for safer work practices.
Construction Safety Week
An important event we support is Construction Safety Week. Construction Safety Week is an annual event that helps us keep safety at the forefront of our minds. During the week, we discuss the best general construction practices and share crucial safety resources.


Construction Safety Week brings insights from experts to help improve all aspects of construction safety. One expert, Roger Keglowitsch from PCL Construction, said this,
"… We continuously look for innovative ways to improve our safety practices and to work with our trade partners to embrace a mindset that is unwilling to compromise when it comes to keeping people safe at work. With the introduction of Human and Organizational Performance to our HSE program, we are maintaining best in class industry safety. On an average of more than 50 million hours worked annually, we have demonstrated results among the industry's lowest overall total recordable incident rates and lost-time frequency rates."
By partnering with experts, we can confidently improve our efforts in keeping team members safe. Roger Keglowitsch is just one of the many experts that Construction Safety Week consults with to create a secure working environment for construction team members.
We are excited to join Construction Safety Week in promoting safer job sites. Join us in making the industry safer, and schedule your toolbox talk today!
2022 Concrete Sawing & Drilling Safety Week
We not only avidly support Construction Safety Week, but Our 2022 Concrete Sawing & Drilling Safety Week was our most successful event ever. In 2020 we visited 80 job sites and presented to 2100 people. Last year, we visited 111 job sites and spoke to 3100 people.


In January of 2022, we visited 136 job sites and presented to almost 5500 different people!
After more than doubling the number of people we present to after two years, we are excited to see what 2023 has in store.
Schedule a Safety Presentation
Click here to sign up for your toolbox talk! In the end, safe practices help save time and money and protect your valuable team members. We are excited to come to your job site and talk about the importance of site construction safety!
References:
Increasing Frequency of ToolBox Talks – Why & How. https://safetyteksoftware.com/article/increasing-the-frequency-of-toolbox-talks-why-and-how/
Safety Culture – Construction Safety Week. https://www.constructionsafetyweek.com/safety-culture/