It's common for companies to purchase buildings and facilities for future business endeavors, but these buildings' utilities are often not adequately marked. Poorly marked utilities can pose a severe hazard for facility managers, builders, and safety directors. Knowing where utilities and pipes are with certainty is an essential part of maintaining a safe facility and job site.
GPRS identifies and maps utilities and pipes through our state-of-the-art video pipe inspection equipment and our highly skilled Project Managers.
Video Pipe Inspection
We produce clear and thorough video pipe inspection services using robotic video pipe cameras, push cameras, and lateral launch cameras.
A lateral launch sewer inspection allows for closed-circuit television (CCTV) video inspection of pipes, including mainline and lateral pipelines. It is ideal involving situations that do not allow for a typical visual inspection. A pipe is inspected from the mainline to the lateral, searching for cross bores, pipe defects, and structural issues during the process.
All our VPI Project Managers are NASSCO certified. Our detailed WinCan/NASSCO reports contain screenshots of the interior condition of the pipe segments that we inspect. Our Project Managers will also provide a video file of the complete inspection for further evaluation, documentation, or reference.
By using advanced CCTV video pipe inspection, we can discover, inspect, and map water and sewer systems. This mapping includes hard-to-discover elements like lateral lines. GPRS not only locates utilities and water lines, but we can also identify the different water, sanitary, and sewer lines within a facility. This can be extraordinarily helpful, especially when creating or updating as-built drawings. These mappings can be noted in the work area and then captured through 3D Laser Scans.
3D Laser Scans
GPRS Project Managers not only inspect the interior condition of water pipes, sewer pipes, sewer laterals, and manholes – they can provide a map of their location. The GPRS Deliverables Department can provide detailed GPS overlays and CAD files. This allows clients such as contractors, engineers, and owners to create or update as-built drawings for preplanning, utility avoidance, or document site history and site changes and can be exported to various CAD and GIS systems.
Using 3D mapping and modeling, we can create a 3D rendering of a facility with a map of all pipes, color-coded, so the client knows exactly what lines lead where.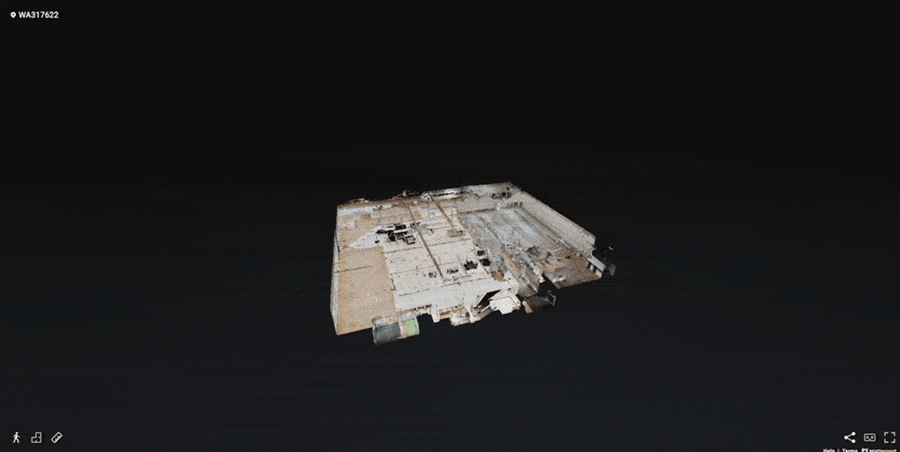 3D Cameras can be used at your site to document our interior findings. These files can be used to create a floor plan of your site with our results added as lifework or create 3D views and point clouds. The 3D views will allow your team to tour the site almost as if you were there yourself. Here is an example of a facility that one of our Video Pipe Inspection Project Managers, Andy Jurski, mapped out with his Matterport cameras.
A Powerful Combination
Andy Jurski, a VPI Project Manager, recently completed a project for a company where the construction managers needed a layout and map of a facilities' pipe infrastructure.
While we can provide kmz maps that integrate into GIS systems, mapping the interior of a facility can be challenging. However, to meet our customer's needs we were able to combine our existing services.
We asked Andy Jurski, Video Pipe Inspection Project Manager, how the 3D Laser Scans aided him in his most recent project. He said,
"With the 3D map, we're able to see the different colors of each sanitary line– the ones going to the grease trap and the ones going to the sanitary line. With that, the customer can then zoom in, see the depth we found the line, and correlate that with the videos we obtained from each cleanout.
You can click on each station of the map, with the [3D laser scanned image] and zoom in to see any information we [noted] on the tape [we placed on the ground]."
Andy Jurski mapped the layout of sanitary, water, and sewer lines within a facility. Then, through 3D laser scanning cameras, he created a virtual tour of the facility. This virtual tour would allow individuals off-site to explore the space while also seeing the pipeline layout.
We are constantly evolving our skillset and training our Project Managers on the latest field technologies. This combination allows us to perform projects typically unavailable to a standard CCTV pipe inspection company. In our case, a client was able to take the location and depth data of the pipes and correlate that to the type of pipes that were found. This technology application allows future planning and remodeling much easier.
But this is just the beginning. We're planning on combining our data collection with cloud technology to create something that's never been done before. Follow GPRS to stay tuned for our future technological developments.
Schedule a Project Today
GPRS specializes in various ground penetrating radar, video pipe inspection, and mapping and modeling services. Our Project Managers have the equipment and expertise to handle all subsurface challenges presented. GPRS does this by utilizing various equipment paired with their industry-leading SIM process.
So don't wait. Click here to schedule a project with GPRS and allow our highly trained Project Managers to keep your projects on time, on budget, and safe.