Netflix, Hulu, Amazon Prime… Besides being three of the most influential streaming services active today, what do these three have in common? Free trials.
When you go to a WalMart or Target, what do the cashiers do? They price match items to other distributers so they can always guarantee their company offers the lowest price on purchased items.
Even OtterBox, a company who sells near-invulnerable technology cases, guarantees that their phone cases are so strong, if your phone breaks with an OtterBox on, they'll cover the cost.
The most influential and fast-growing companies in their respective industries have stipulations in place, but for what? Does it make them more money? How does guaranteeing something, impact the company? Even better, how is the company able to promise something that people see as undeliverable? It's simple. These companies have the manpower and the confidence in their products to make that guarantee to their customers.
But what if I told you that GPRS has that same confidence in their products and services as well?
GPRS is the industry-leading subsurface contractor, and the go-to professional for services including utility locating, concrete scanning, and video pipe inspection. Much like how Apple and Amazon lead their respective industries, GPRS aims to be viewed in the top tier of subsurface investigation. This reason played a large role in our company creating the "Green Box Guarantee," an answer and solution for our customers.
So, what is the Green Box Guarantee and how does it help customers?
The Green Box Guarantee is simple: when we place a Green Box within a layout prior to anchoring or coring concrete, we guarantee that area will be free of obstruction. In fact, we are so confident in our SIM-qualified Project Managers that if the area isn't free of obstructions, GPRS will pay the cost of the damage. 
GPRS takes the route, much like OtterBox, in the belief that our product is worth more than what we can put on paper. You can say your confident in your product or service, but how much does that really mean? The true companies, who are the leaders within their divisions, show worthiness through action, and not just talk.
But this isn't just talk. GPRS' Green Box Guarantee delivers multiple benefits to our customers that they are unable to get from competitors.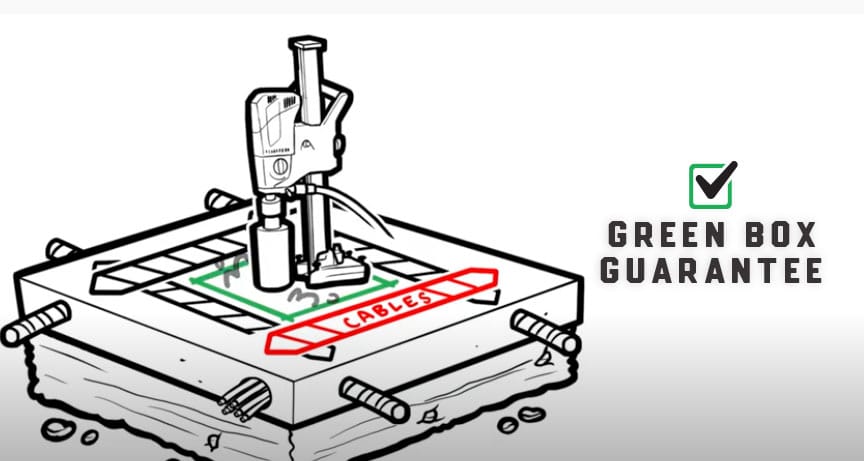 The GPRS Green Box Guarantee allows you to accomplish four things: safety, efficiency, cost savings, and clear communication.
Safety – Electrical conduit strikes present a high risk of electric shock to the equipment operator and nearby workers. Strikes can also cause nearby operations and work to be shut down. Cutting, coring, and drilling through a post-tension cable can cause injury or structural damage, so when the structural integrity of a slab is compromised due to severed reinforcement, it can lead to serious safety concerns.
Efficiency – When contractors can keep their schedule from experiencing delays due to line strikes and damaged reinforcement, change orders and budget overruns are decreased, while GPRS Project Managers have the capability of accurately clearing dozens of cutting/coring areas per day. Cutting, coring, and drilling through clean concrete significantly speeds up the demolition process.
Cost Savings – It can cost thousands of dollars to repair damaged wire and conduits due to an electrical strike. Post-tension cable repairs and restressing can cost several thousand dollars per tendon. Cutting through a post-tension cable, critical rebar, electrical conduit or other obstruction can cause a job site to be shut down – increasing costs.
Clear Communication – Critical Green Box Guarantee information is presented directly on the surface of the coring location with notes indicating the exact location that is guaranteed to be clear of obstructions. Then, GPRS performs post-job walkthroughs to explain all Green Box Guarantee locations and parameters. GPRS leads the industry in accuracy, and we accomplish this through repeated performance and open communication.
All four of these elements come together to create the Green Box Guarantee, but they also help enhance GPRS' 99.8% subsurface damage prevention rate. Through our Green Box Guarantee, GPRS hopes to further widen the gap between us and the industry standard, much like the companies we've mentioned in this article. GPRS wants to stay with you on your project from the start all the way to the finish line, while still providing excellent customer service and safety measures.
Join us in our fight against subsurface damage with the new Green Box Guarantee, and don't forget…
Green means Go.