If Seeing Is Believing, Potholing May Be Your Best Bet. But At What Cost?
Potholing is one of the tried and true ways to protect yourself before you dig. It's already built into a lot of construction processes as a standard practice. For most, they consider this the best and only way to be sure about identifying what lies beneath the surface of a construction site.
In this post we're going to survey the PROs and CONs of this method of subsurface analysis, and other ways you can lower your cost and time to dig.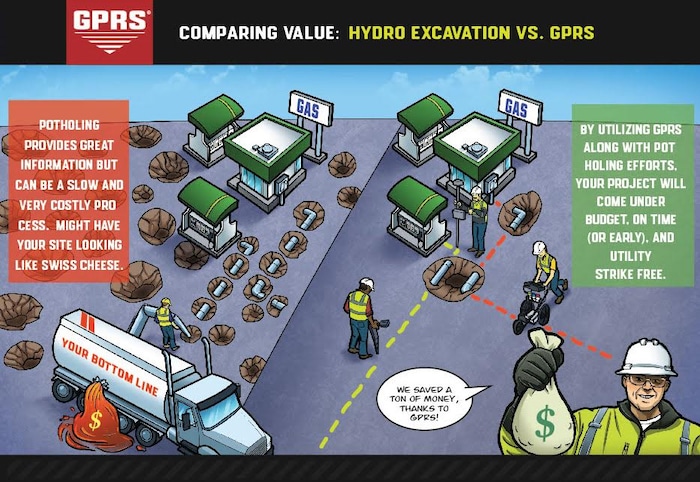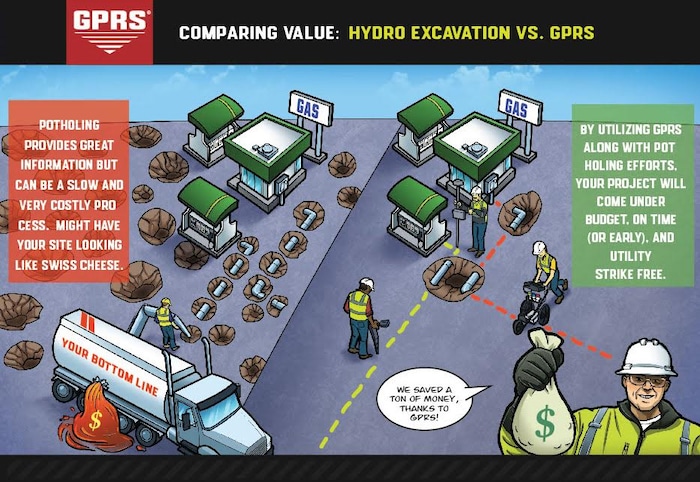 What is utility Potholing?
Utility potholing is a method used to locate utility lines during construction or repairs which uses a portable vacuum excavator, using either air or water to extract the dirt from the ground, instead of a shovel or backhoe.
This allows for construction crews to know exactly where specific underground lines are prior to starting their building or repair process. For many construction projects to start, potholing is a required part of their process because it's thought to be the only route that is truly verifiable, as it exposes what's underground to the visible eye.
However it is time consuming, expensive, and not risk free. Typically if a company has to dig 15-25 holes, the job to verify what lies beneath can take weeks and tens of thousands of dollars. In addition to this, there are a lot of permits that must be approved and environmental concerns taken into consideration.
Many companies have lived with the realities of this process because it was thought to be the only way. But that's not the case.
Potholing is one of the best ways to truly verify what's underground because you're actually seeing the objects that are there. However if you were to take a different route, you do have options to bypass the excessive potholing, saving you a lot of time, money and hassle.
Did you know: For the jobs that require potholing, you do have viable alternative options
Potholing is often thought to be the most accurate way to determine what's underground compared to alternative methods.
However the primary issue with other methods is not that they're ineffective, it's due to inexperienced operators that have a limited knowledge of multiple testing methods.
By creating our very own proprietary training certification process, covering a multitude of various testing methods and tools, we have completely removed these barriers from the equation. The result is an incredibly viable alternative to potholing when time and budgets don't allow for it.
When using highly-trained project managers and a mix of analysis methods, GPRS can give you the underground visibility you need, along with the confidence of our 99.8% accuracy rating.
How do alternative sub-surface analysis methods compare to potholing?
Let's look at an example of how potholing compares to using the GPRS SIM approach.
Potholing is a much more complicated process, involving more people and more equipment, all of which takes up more of your time.
People and Equipment Required:
Hydrovac Unit and Operator
Additional Labor may be necessary
Remote Pipe may be necessary
Support Truck may be necessary
Services Performed:
Saw cut pavement if required
Perform necessary hydro evacuation process
Backfill the hole
Cold patch the hole
Dispose of all ground waste properly
Overnight stay may be necessary
Mobilization and demobilization
Environmental cleanup
This all adds up to a cost of about $8,775 per day.
Not to mention, your site is left with a bunch of patch marks all over it.
Typically, potholing crews can complete about 8 holes per day. But many sites may require over 20 holes, which ends up costing you a lot of money and delays your work by several days.
With the GPRS SIM approach, this whole process only takes you a day. While you still may need to create a couple holes depending on your job requirements, and the rest of your analysis is completed with our above ground equipment. No digging means your jobsite is safe with us and is left undisturbed.
And while potholing provides you with clear information, our 99.8% accuracy rating leaves nothing to the imagination.
How should you determine which path is right for your application?
When it comes to subsurface analysis of your next dig project, there are two alternatives to just potholing:
GPRS SIM Process to reduce potholing costs if it is required. As depicted in the visual below, we can work in conjunction with a potholing company if your project mandates that potholing be used to verify underground hazards.
GPRS SIM Process as a full 99.8% accurate potholing alternative. If potholing is not required but encouraged, we provide an incredibly accurate alternative that wouldn't require potholing at all, cutting your project costs and timeline by over 90%.
‍
Note: GPRS does not provide geophysical, geological, land surveying or engineering services. If you need such services, please contact an appropriate professional.