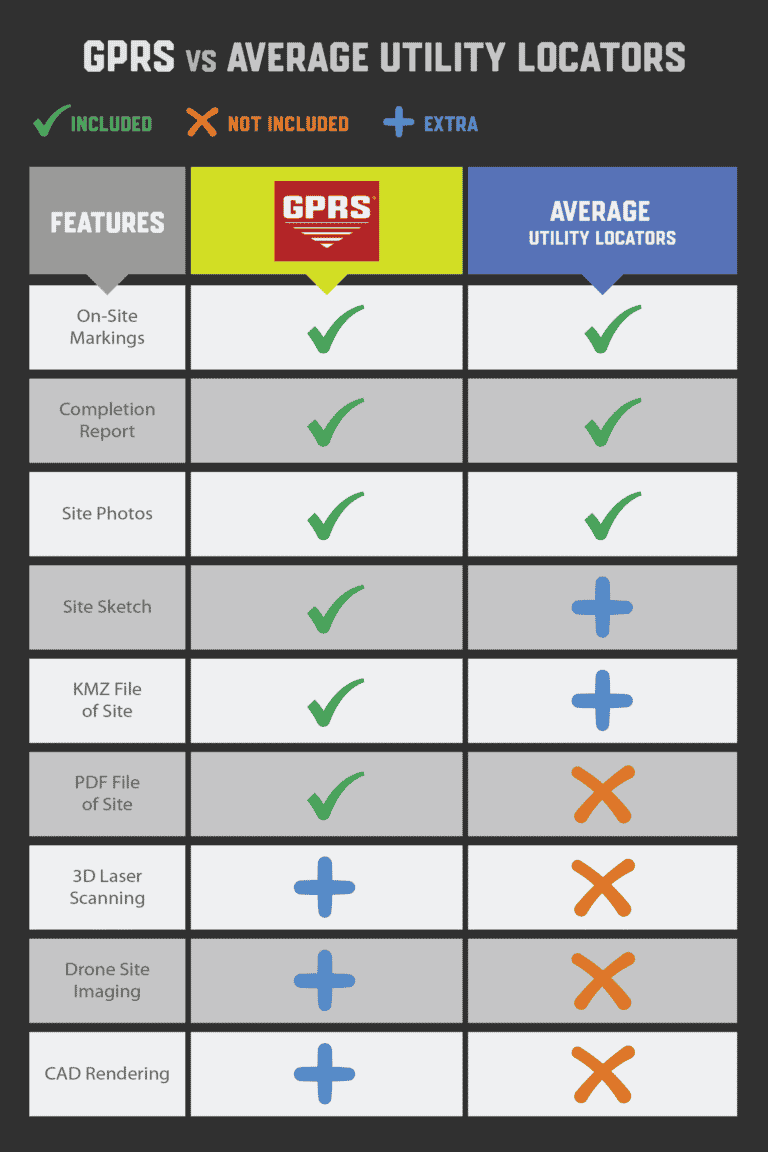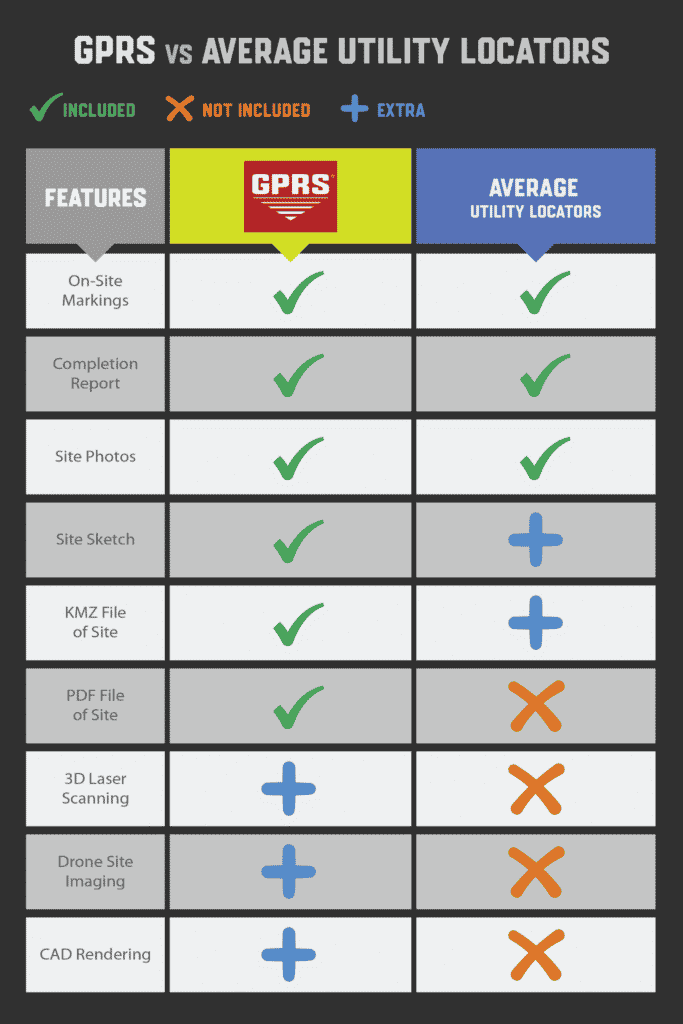 When looking for a utility scanner, you want a company that provides the best value. To know you're getting a good value for your money, it's essential to distinguish the different levels of deliverables that a utility locating company provides.
When we perform scans or other projects for our customers, we ensure that our deliverables are the most polished and comprehensive in the industry. But you don't have to take our word for it. Let's look at what the average utility locating service provides to its clients versus what we provide.
At GPRS, we have worked hard to distinguish ourselves from the competition. One of our core messages at our company is "Widen the Gap," and we enact that by going beyond what the industry sees as standard.
Widening the Gap
Here is what the average utility locating company provides for its clients:
On-site Markings
Site Photos
Site Sketch*
KMZ File*
Completion Report
Here is what GPRS provides:
On-site Markings
Site Photos
PDF File of Site
KMZ File of Site
Completion Report
Drone Site Imaging
Post-Project Walkthrough and Debriefing with Project Manager
Completion Report
CAD Rendering*
* Indicates this may be project dependent or incur an additional service fee upon request
You're probably familiar with some of these deliverables if you've worked with a utility locator before. Utility locators typically use paint and flags to mark the layout of utilities for quick above-ground identification. In addition to taking photos, these service providers may also provide sketches of the site to clarify the utility layout for the client. However, it's common for utility locators to require clients to pay extra for these often-necessary deliverables.
For every completed utility locating project, we deliver a complimentary satellite image overlay that is dynamic and zoomable. For some clients, this may seem excessive, but this can be extremely useful for extensive facilities that require an extra level of detail. Mapped findings are provided to the client in kmz and pdf file formats, showing our results over an aerial image along with our notes. PDFs are still a great option to print and review with others if you don't require the dynamic capabilities of our kmz files.
GPRS delivers a nationwide expert-level service at a fixed rate.
Simple Service Plan
It's common for companies to offer a low rate without disclosing the deliverables of that service upfront. Often, they're covering up the fact that they perform tiers of service. Perhaps a generic utility locator will perform EM locating for $600 but won't use any GPR equipment. Then at their $900 tier, they may use ground penetrating radar. Then finally, at a $1500 tier, they may agree to a warranty or a guarantee to cover the costs if any mistakes were made.
GPRS does it differently, and we do it better. We perform a comprehensive service at a single cost. Whenever a customer schedules us for a utility locating project, we provide markings, photos, sketches, and complimentary pdf and kmz files. We also offer a post-project walkthrough with our project managers to communicate all the vital information you need to be on time, on budget, and safe.
Nationwide Service
The second factor that sets GPRS apart from our competition is nationwide service. When clients require utility locates for multiple facilities and locations throughout the nation, this can present many challenges when identifying a utility locator to hire. We are the only utility locator that offers a full nationwide service to our customers. Instead of calling multiple locators to find out who can service your location, you can call GPRS and know that we can be onsite within 48 hours of scheduling a service with us.
Expert Level Work
Finally, our SIM-certified project managers perform all the services we offer at an expert level. SIM stands for Subsurface Investigation Methodology and is an industry standard that requires utility locators to be equipment experts, thoroughly trained, and authorities on the best methodologies. Because all our Project Managers are SIM-certified, this means that when you use GPRS for your utility locating needs, you're getting the most diligently trained technicians. Our diligence is how we've obtained our 99.8%+ project scanning accuracy.
Many utility locators don't work by an official standard of training such as SIM. It is typical for utility locating technicians to visit GPR equipment manufacturers to receive basic equipment training, but the standard technician typically does not receive any further education.
At GPRS we refer to our certified technicians as Project Managers. This differentiation is implemented to set them apart and to denote their capabilities to oversee customer projects in their entirety. Each of our Project Managers goes through a three-month training process. In addition, each trainee is paired with an experienced Project Manager gaining in-the-field training and a two-week hands-on classroom experience. This training includes two weeks at our Training Center, located at our corporate headquarters in Toledo, OH. The GPRS Training Center has ~6,000 square feet of dedicated test slab created to simulate most conditions encountered in the field. This test slab has buried utilities within it to provide an immersive test experience. This program enables the trainees to grow in knowledge and confidence.
We pride ourselves on being a simple solution for customers who need essential utility locating services fulfilled. While we deliver a highly accurate nationwide service at a fixed rate, we can also produce deliverables that may be necessary for more involved projects. GPRS can produce CAD renderings, 3D laser scanned files and more upon request. Additionally, GPRS is a forerunner in GPR technology and mapping and modeling services.
We can utilize thermographic imagery, drones, magnetometers, EM locating, CCTV Video Pipe Inspection, and more if a project requires it. We're prepared for any challenge a project presents.
Schedule a Project Today
Take the guesswork out of your next project. Click here to visit our website for more information regarding our services. GPRS specializes in all types of ground penetrating radar services. Our Project Managers have the equipment and expertise to handle all subsurface challenges presented.
So don't wait. Click here to schedule a project with GPRS and allow our highly trained Project Managers to keep your projects on time, on budget, and safe.