Video Pipe Inspection (VPI) is a service used to inspect underground water, sewer, and lateral pipelines. VPI is a great tool for investigating cross-bores, structural faults and damages, and lateral line inspection.
For these pipe inspections, there are three different types of cameras technicians will use to perform our services:
Robotic Crawler w/ CCTV Camera – GPRS crawlers are powerful and rugged. This enables them to perform in extreme scenarios. Project Managers can provide an accurate and reliable view of sewer pipeline condition and locations. The CCTV cameras are capable of inspecting pipes between 6" – 96" in diameter.
Push Camera – GPRS Project Managers are additionally equipped with push cameras. This smaller camera system can be manually fed into a pipe. The camera provides a real-time video feed to the operating PM. Push cameras are equipped with a locatable sonde which allows for further mapping. This tool is great for scenarios where the pipe being inspected is too small or the CCTV sewer inspection.
Lateral Launch – The lateral launch video tool is a sewer inspection system that allows GPRS Project Managers to inspect laterals from the mainline. This tool can perform cross-bore investigations as well as map the interior condition of these hard-to-reach pipes.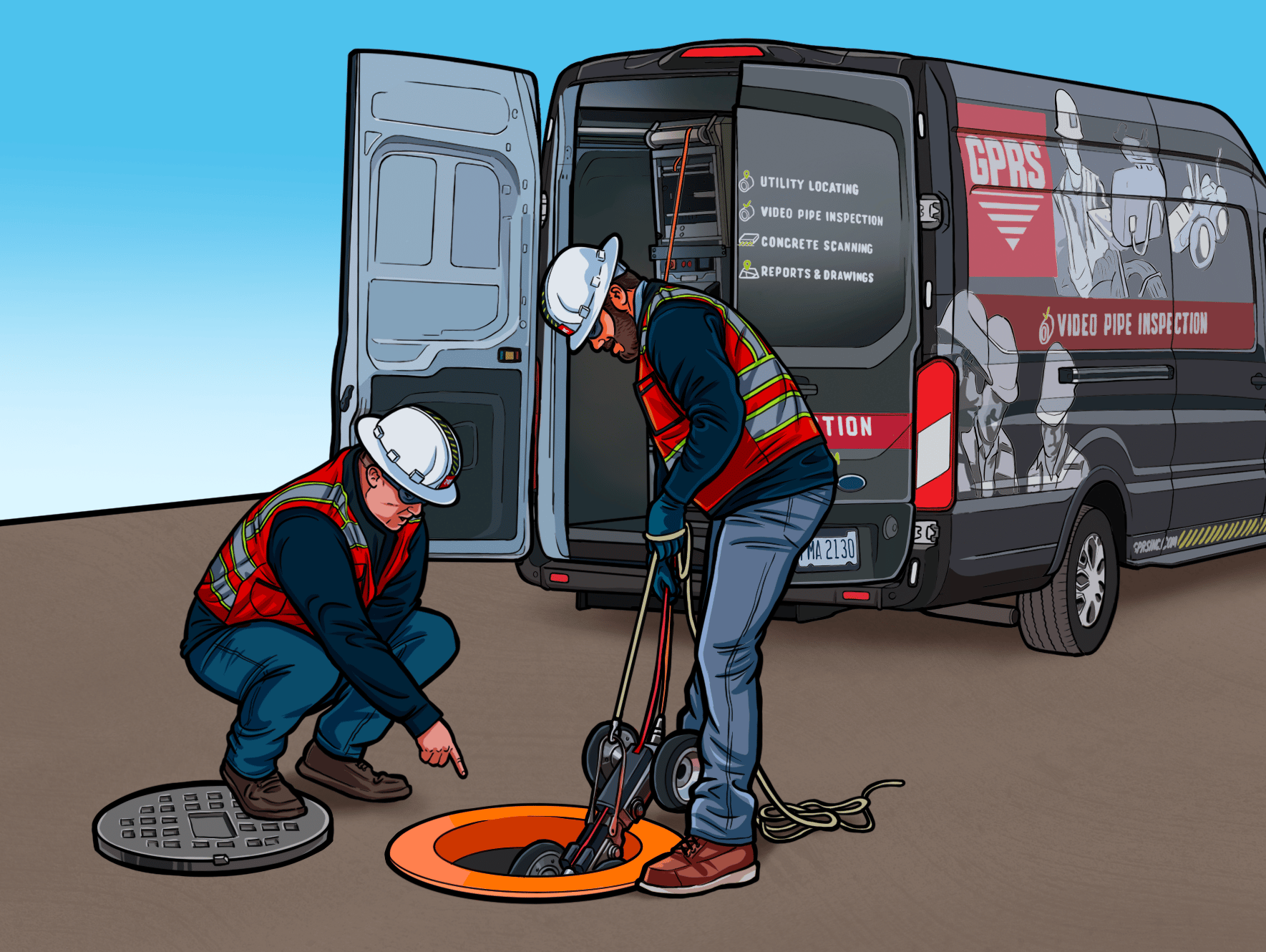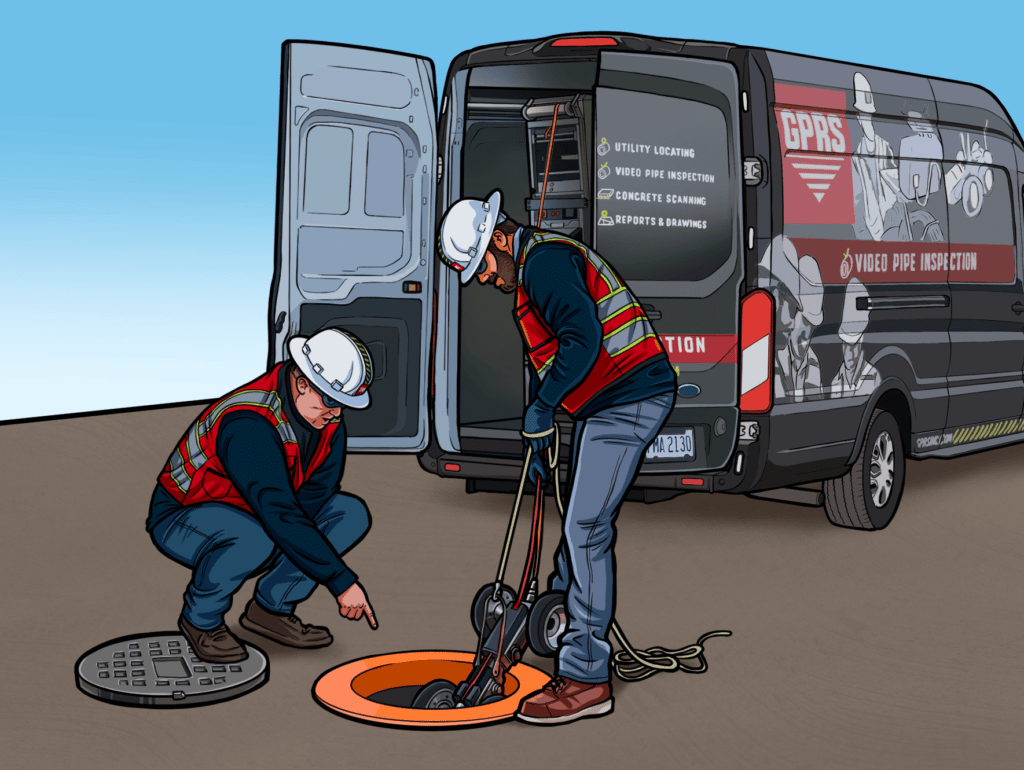 But what does all this mean? Across the reaches of the internet, you will find a multitude of plumbing services laying out what the benefits of their water and sewer pipe inspection service holds. For GPRS, like our utility locating and concrete scanning, we have SIM-trained Project Managers whose focus is strictly in VPI and its equipment. In this blog, we want to highlight the benefits of not only video pipe inspection as a whole, but the benefits of choosing GPRS as your sewer inspection contractor. First, let's talk about the benefits of our VPI equipment, referenced above.
Benefit #1: VPI Equipment
As mentioned, GPRS utilizes three different types of VPI cameras, each use depending on the type of investigation being conducted. The benefit? By using a variety of different types of cameras you have inspection methods for every type of water or sewer pipeline. Additionally, each camera serves a specific purpose and has separate applications for each. For example, considering the CCTV robotic crawler can be placed in a pipe up to 96" in diameter, applications include: sewer and drain depth verification, pre and post pipe installation inspections, buried manhole/structures, cross bore inspections, and the inspection/locating/mapping of storm drains and sewer laterals. However, because of their size, push cameras have the capability to inspect, locate, and map the interior of drains and sewer laterals to locate leaks, blockages, and for locating purposes. Push cameras are a key component in preventative maintenance as storm drainage can become a bigger problem. Lastly, equipped with a sonde, the lateral launch cameras are also used to verify depths of sewer pipes prior to the construction process.
By utilizing these the three different types of equipment, in addition to ground penetrating radar (GPR) and EM locating, you not only receive a thorough investigation, but each camera serves it own purpose. No matter the damage to the pipe, GPR technicians have the ability to find a solution.
Benefit #2: Reporting
NASSCO, or the National Association of Sewer Service Companies, sets industry standards for assessing, maintaining, and rehabilitating underground infrastructure. Since all GPRS Project Managers are NASSCO trained and certified, they are proud to offer WinCan reporting to Video Pipe Inspection clients. Maintaining sewers begins with understanding all sewer conditions; WinCan allows GPRS Project Managers to collect detailed, NASSCO compliant sewer inspection data. Our detailed WinCan/NASSSCO reports contain screenshots of the interior condition of the pipe segments that we inspect, as well as our Project Managers providing a video file of the complete inspection for further evaluation, documentation, or reference.
On top of WinCan reporting, GPRS offers another inclusive service in the form of detailed mapping. Not only can PMs provide detailed reports on the interior conditions of water pipes, sewer pipes and laterals, and manholes — they can provide a map of their location. The GPRS Deliverables Department provide detailed GPS overlays and CAD files of all subsurface pipe locations.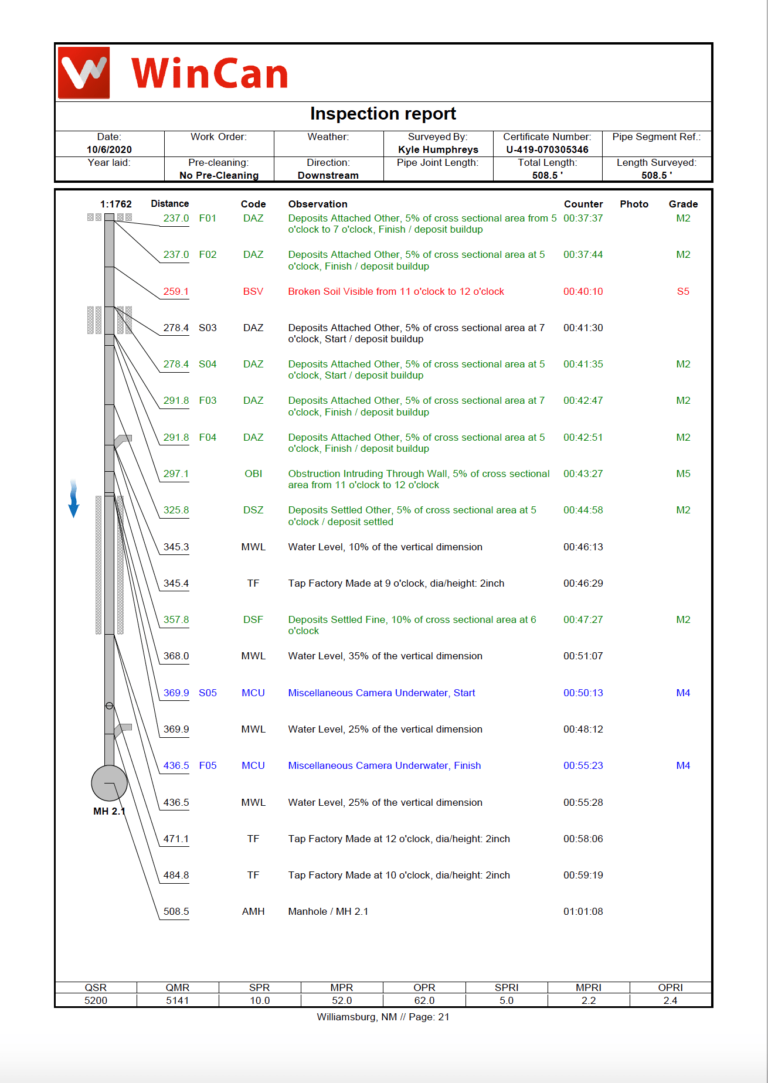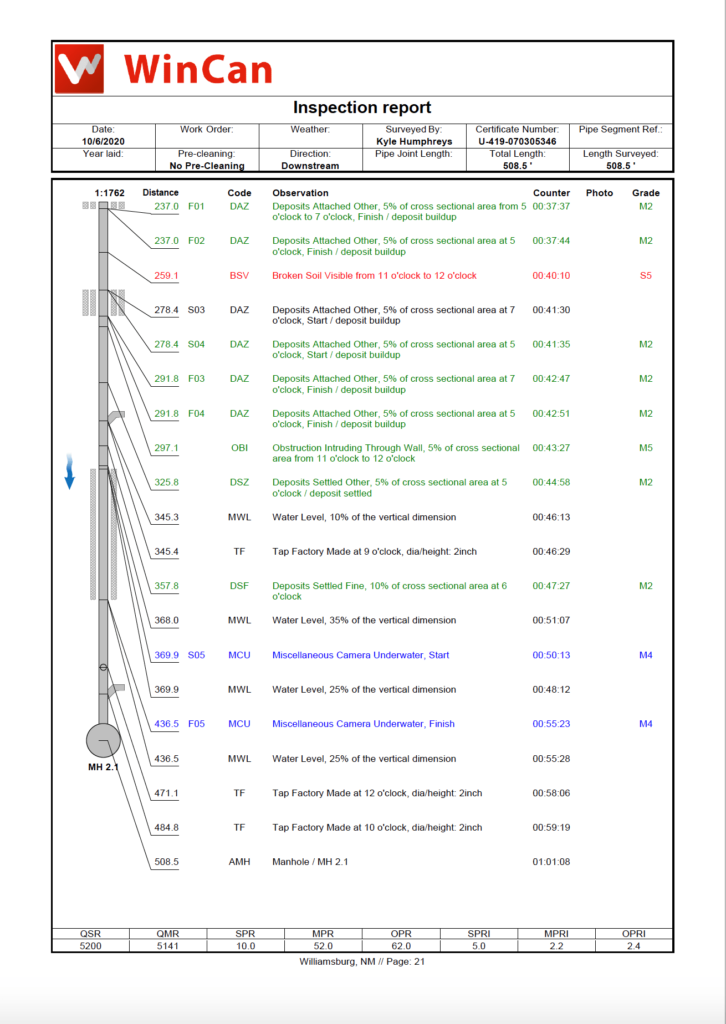 Benefit # 3: Training
Although GPRS provides other services besides video pipe inspection, it doesn't mean it isn't one of our specialties. GPRS Project Managers participate in three separate national training programs that focus on different assessments. These include:
Pipeline Assessment and Certification Program (PACP) – An international standard that has been used for many years as the assessment of water and sewer pipelines, manholes, and laterals.
Lateral Assessment (LACP) – The NASSCO program for defect coding in lateral pipes. This program is the Lateral Assessment and Certification Program, and it addresses many fittings and access points that are unique to laterals.
Manhole Assessment (MACP) – The Manhole Assessment and Certification Program (MACP) provides training on the gathering of detailed information to fully document all defects, determine condition of the manhole, and provide the specific information needed to recommend corrective action.
While programs listed above, which ensure conditions are assessed accurately and rehabilitation projects are done properly, are just the cornerstone of NASSCO's vision to build awareness of aging underground infrastructure. NASSCO sets out to educate the industry of this critical need by providing viable solutions. Project Managers take part in all of the organizations training and assessments so there isn't a scenario involving water or sewer pipeline systems that they can't solve.
Benefit #4: Leak Detection
With the acquisition of New York Leak Detection, Inc. (NYLD Infrastructure), GPRS now offers exclusive leak detection services! With the addition of this new company and service, GPRS technicians can perform fast leak detection during our video pipe inspection services.
Signs of a water leak aren't always clear. If there are subtle signs of trouble, our inspection cameras can find the cause and exact location of the leak. Our VPI technicians can measure the distance the camera has traveled to pinpoint where it is, whether it's under a slab or behind a wall. Otherwise, water leaks can end up costing you a lot of money in water bills. For more benefits of leak detection, visit our blog here: https://resources.gp-radar.com/in-the-news/leak-detection-who/
Benefit #5: Non-Destructive Investigation
GPRS' VPI process delivers a non-destructive way to inspect underground sewer pipelines; better yet, even during a circumstance i.e., a cross-bore mitigation project, where potholing is necessary to grant us access to the mainlines, our GPR scanners can detect and locate the locations of all subsurface utilities to limit the number of potholes that are created to solve the problem. With both our GPR scanners and EM locators, we have different, successful ways that grant us access to our client's water or sewer system.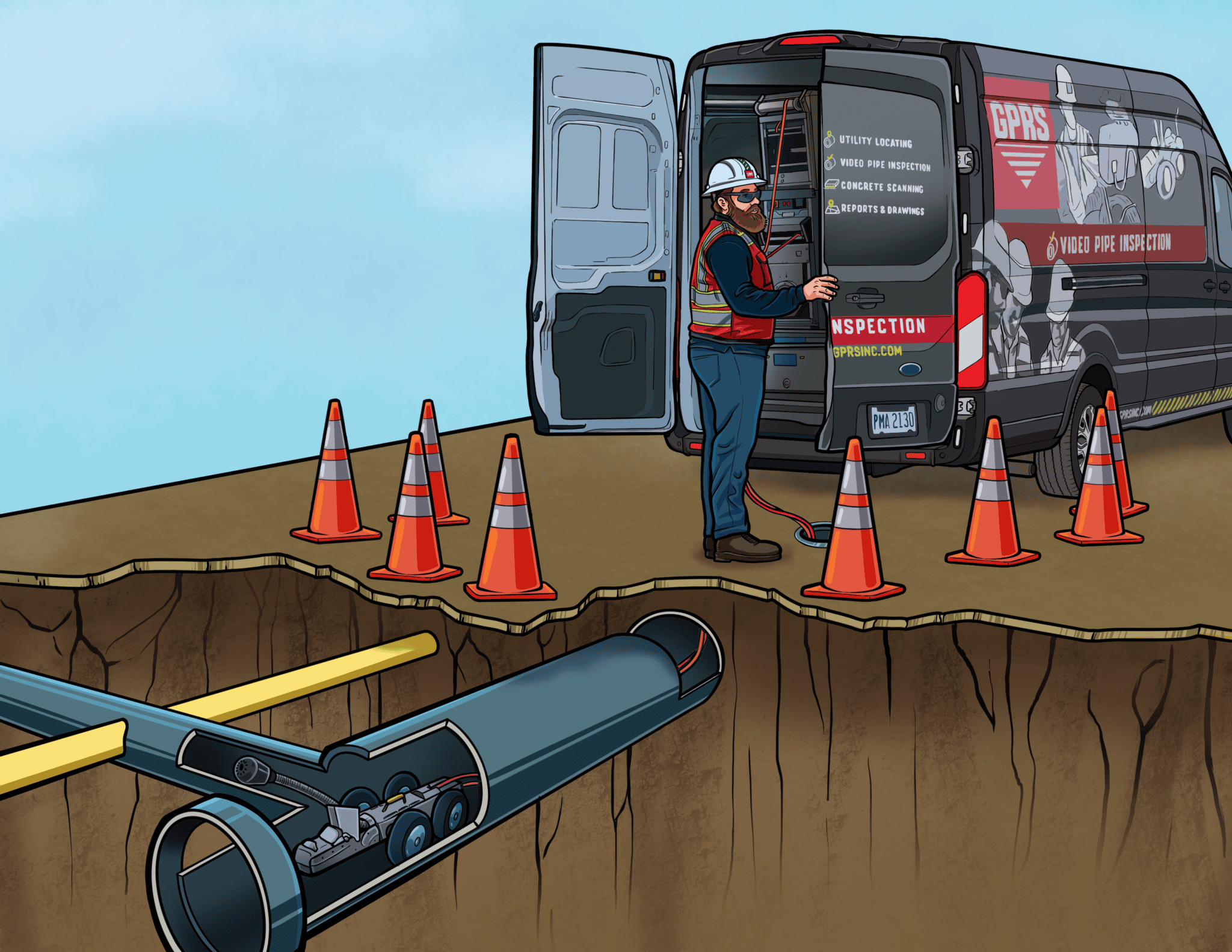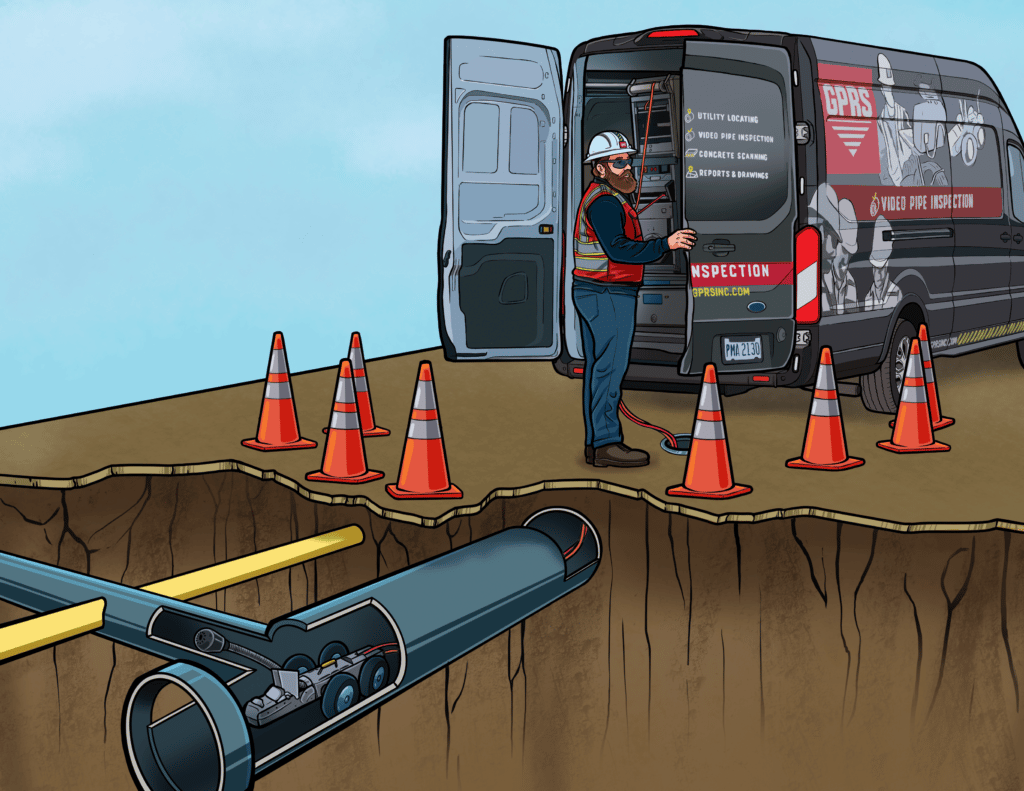 Benefit #6: Save Time and Money
How does video pipe inspection save you time and money? Well, I don't know about other companies' VPI services, but because GPRS technicians have mastery of all of our equipment, including our GPR equipment and EM locators, we are able to locate all underground utilities, more specifically water and sewer pipes, to determine their locations before inspection begins. Additionally, with our facility mapping and modeling service, we can give you .KMZ and PDF files of your underground infrastructure for future reference.
By combining all of our services and allowing GPRS to stay with you from start to finish on your project, you not only get clear communication and industry-leading customer service, but our SIM process saves you time and money by quickly and efficiently locating any defects or problems in your pipeline, water or sewer system, or manhole.